Dit evenement is voorbij.
The future of science
6 februari @ 13:00

-

17:00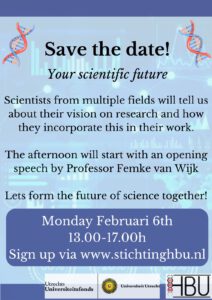 This interfaculty activity is aimed at career orientation. All Honours students of the University of Utrecht are invited to join. Below, please find the preliminary program and the registration form. The registrations close on the 3rd of February.
13:00-13:30 Opening speech by prof. dr. Femke van Wijk (professor in Tissue Immunology at UMC Utrecht)
13:30-14:00 Lecture by dr. Monique Slijper
14:00-14:15 Break
14:15-14:45 Lecture by dr. Linda Visser (data-analist at RIVM)
14:45-15:00 Break
15:00-15:45 Discussion about predatory scientific journalism
15:45-16:00 Break
16:00-17:00 Workshop about patient engagement by dr. Colette ten Hove
Registration form
Unfortunately, registration has been closed.