Buitenlandse reis 2019: Cambridge
This year the location of the study trip was Cambridge. We were looking forward to it for a long time and we have enjoyed it very much. We did a lot of different activities, such as lab visits, a city walk and a meeting with some students from Cambridge. To get an impression of our experiences and our trip we described each day with some photos added as well.
Monday 8th July 2019
The day started with breakfast at 8.30 a.m.. We left the hostel an hour later and went to the Sanger Building of Cambridge University. We were welcomed by professor Gerard Evan, who is the head of the Department of Biochemistry. Together we walked to the Hopkins building, where he gave us a small introduction about the founding and structure of Cambridge University, the Hopkins building and their teaching. The introductory talk of Gerard Evan was followed by two other speakers who talked about their research. Paula MacGregor is a group leader in the department gave us a talk about her career path and her research. She is currently working on the molecular basis and evolution of host-parasite interactions in African trypanosomes. African trypanosomiasis, also known as sleeping sickness, is a parasitic disease caused by the African trypanosomes. Her talk focused on the killing of African trypanosomes with cancer therapeutics. The next speaker was Päivi Pihlajamaa, talked about the identification of transcriptional targets of the MYC oncogene using focused and genome-wide CRISPR-methods. We returned to the Sanger building and had a lunch with all sorts of sandwiches. We split into three groups after lunch and had small visits to the cryogenic electron microscope, Sanger sequencer machines, Next Generation Sequencing machines and a lab were the role of Myc in lung cancer is investigated.
After this very interesting lab visit, we went for a punting tour across several riverside colleges and organized our own city tour. We visited the Fitzwilliam Museum, Pembroke College, King's College, Great St. Mary's Church, Sidney Sussex College, Jesus College and the Round Church during the city tour. We did not manage to finish the city tour before dinner, which took place at Honest Burgers. During dinner Kyra and Dirk told us more about our visits of the next day, the Smith Lab and AstraZeneca respectively. We resumed the city tour after dinner and ate ice cream at the best place in town according to a Dutch researcher from the Department of Biochemistry.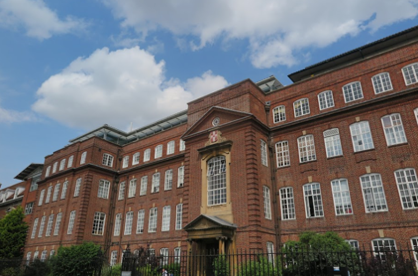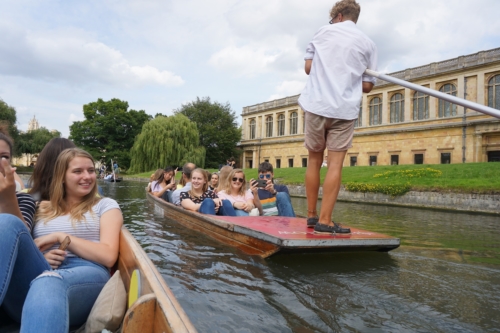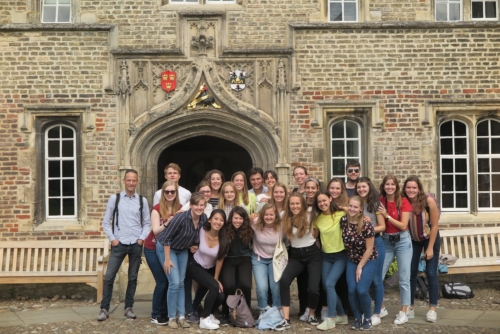 Tuesday 9th July 2019
On Tuesday we woke up at around 8 a.m. and had breakfast all together. Then, we walked from the hostel to the Cambridge train station to take a private bus that AstraZeneca had arranged for us. We were at the AstraZeneca campus at 10 a.m., where Adam Pickles and Hannah Williamson gave us an introduction and showed us their facilities and different research groups.
AstraZeneca had a panel discussion prepared for us after the lab tour with different graduates – Hannah Moore, Sofia Pedersen, Amy Dasani, Hannah Williamson and Rowan Swiers. They told us about their backgrounds and the different possibilities for a career that are offered at AstraZeneca (for more information look at the following webpage: http://careers.astrazeneca.com/students). The networking discussion was accompanied with a delightful lunch and lasted about 40 minutes. Later, we took the bus when it had finally arrived to pick us up and went to the hostel to have a 20 minutes break.
We visited the lab of Geoffrey Smith in the midday at the department of Pathology of the Cambridge University. We were separated into three groups to follow a rotating lab tour. Our group was first showed around the lab by students Alisa and Chen and then Yung Zhu showed us his current experiments in which he analyzes viral and bacterial resistances. Subsequently, Mike told us everything about the functioning of the EM and showed us pictures of cell structures and viruses in infected cells. Finally, Geoffrey Smith himself explained with experimental proof how his group found out that the Cellular Exocytotic Virus (CEV) induces the formation of actin tails in infected cells to spread more rapidly to other cells.
Afterwards, we went to the hostel to rest and ate at the Italian restaurant Tradizioni at 18:30. We had delicious pasta or pizza, and some of us also ate tiramisu. We rested some minutes at the hostel after dinner. To end the night, we went to different pubs in Cambridge and ended in the Fez Club, after which we went to the hostel to rest for Wednesday.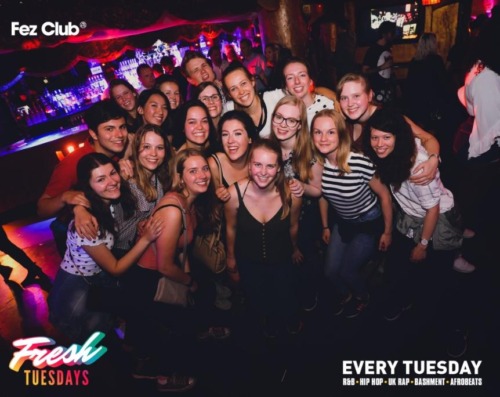 Wednesday 10th July 2019
We had a free day after these first two eventful days. This day couldn't have been more convenient, since we all visited the British night scene and many of us went to sleep later than usual. For this reason, it was expected that most of us slept in and did not get out of bed until 10 o'clock. Some people however still managed to get out of bed at 9 o'clock in the morning for a run.
The program was completely free, the group split up and visited various attractions. A few groups went to visit King's College. This beautiful building was very impressive, especially the chapel and the stained-glass windows. Some people also went to see Trinity College and the Wren library.
At 3 o'clock in the afternoon we went to a high tea at Browns with most of the group. We could not miss this British tradition of course. There was unlimited tea and delicious treats, enough to last the entire day.
After the afternoon tea there was some more time to visit the several attractions, to rest in a park or to buy some souvenirs. Some people went to see the Fitz William museum, which contains a lot of different art pieces of different cultures.
Then it was time for dinner: Indian food at Rajbelash. We got plenty of food, including two (!) appetizers and a wonderful curry as the main course. Unfortunately, many of us were still full from the High Tea. However, we still enjoyed it a lot. At night some games were played at the hostel (especially: Weerwolven van Wakkerdam), after which everybody went to bed early to prepare themselves for the next day.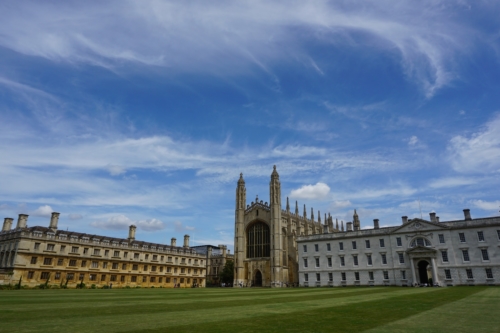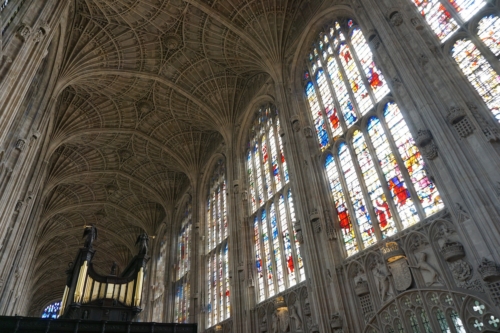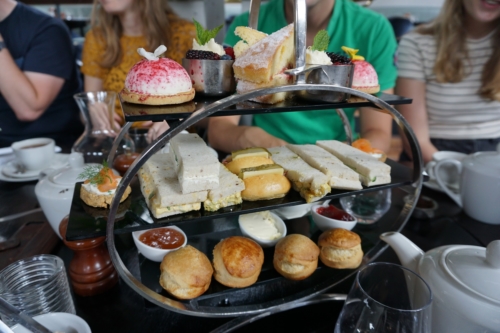 Thursday 11th July 2019
We started the day with a visit to the group of Dr. Ingo Ringshausen at the department of haematology at Cambridge university. We received three different talks, all about chronic lymphocytic leukaemia. First, Ingo Ringshausen spoke about evolving views on cancer. He gave an overview on the development of knowledge of Burkitt lymphoma. It was intriguing to hear how in the beginning, researchers could only report the symptoms they saw and perform basic histological examinations with the help of a microscope. In those days, all patients died from this disease within 2 months. This sharply contrasts with today's situation, in which Burkitt lymphoma is a very treatable disease. The main emphasis of his talk was on the technological progress and research that has made these developments possible. The second speaker, Dan Hoson, discussed how the sequence of mutations can influence the progression and prognosis of cancer. But before he could begin with his talk, a deafening fire alarm went off and we had to go to another building to continue. The last speaker spoke about using functional genomics to find out more about tumor suppressors. Functional genomics is a field of molecular biology that attempts to describe gene functions and interactions.
In the afternoon we visited Anglia Ruskin University. This is a young university in Cambridge where courses in Biomedical sciences, forensics, and biology are offered. Nicholas Berg gave some examples of topics from the various fields. For example, one forensic study focussed on people who had set themselves (accidently) on fire after using a cream. In addition to these bachelors, there are also masters and summer schools available at Anglia Ruskin. After some short presentations from a few professors, we went on a tour of the complex and the labs. When we returned to the lecture hall, Saskia and Joline presented our experience with studying in Utrecht and students from the Biomedical Science Society in Cambridge explained their experience with studying at Anglia Ruskin. We concluded the visit with a quiz on various topics, organised by the students. The group of Teuntje, Dirk, Marieke, Anneloes and Saskia won, although there was some discussion about the exact number of points they received.
Before dinner there was a short window to take a break. Some used this time to relax in the park, others went to the city centre to shop some souvenirs. In the evening we dined at Bill's restaurant. This restaurant was particularly well anticipated, since we already chose our dishes a week in advance, and the food did not disappoint.
Friday 12th July 2019
The day started bright and early at approximately 7 a.m. with breakfast, after which we packed our last bits and bobs and put our luggage in a room in the hostel. We set out to the campus of the Wellcome Sanger Institute for our last lab visit of the study trip. After a 55-minute bus trip in a typically British double-decker bus and a beautiful 20-minute walk, we arrived at the Sanger Institute where we were welcomed by Julia Wilson: the associate director of the institute. She told us about the history of the institute and the Wellcome Genome Campus, where the institute is located. Subsequently Tim Coorens, a PhD student originating from the Netherlands, told us about his education and his research on family trees of human cells based on somatic mutations. Emma Carpenter, also a PhD student, told us about her education and her research on resistance to antimalarial drugs. Lastly, Esmée van Vliet, master student Cancer, Stem Cells & Developmental Biology (CS&D), told us about her 6-month internship at the institute where she researches WRN dependency in acquired resistance models of colorectal cancer. We were given a tour around the modern campus and the sequencing facility. Finally, we had a discussion with the PhD students about our education, research and the UK in general while enjoying lunch provided by the institute.
After this very interesting lab visit, we headed back to the hostel. During the spare time before our trip home, some people visited the city centre of Cambridge while others played card games at the hostel. The train journey to London Stansted airport was very crowded and sweaty as we travelled during rush hour. After the security check, everyone bought dinner and wandered around the airport. We all made it to the gate on time and our flight safely arrived at Schiphol, after which we said goodbye to each other after this amazing study trip.
In short, an eventful week with many interesting lectures, fun activities and a lot of new experiences!